WOOLGATHERERS HOME TEXTILES
RUGS FROM THE CRANBROOK
2008
Here are the first 3 rugs from the Cranbrook loom. One is natural grey handspun wool - and 2 are made wtih some Swedish rug yarns picked up from an estate sale on eBay a while back - the reds were a mix of colors, mostly one skein each, so each skein was woven until finished, a black border laid in, and the next color began.
HOME DECOR FROM THE DRAWLOOM
2008
Some time ago, I did a filet crochet valence for the home office/guest room. The pattern was an interesting mix of cabins and trees, very appropriate for Wisconsin. This summer, at the end of a drawloom warp that I wished to finish, I dug out the computer rendering of that pattern that I'd tested with my weaving software to see how many pattern shafts certain types of pattern required. After modifying things slightly to accommodate the pattern shaft arrangement on the loom at the time, I wove a little runner for the side table that is located just under the window where the valence is hanging.
Runner detail
Valence
Finished runner - 20/2 cotton warp, 60 epi 20/1 linen weft.
FABRIC FOR TABLECLOTHS FRESH FROM THE LOOM
A.
Fabric for two tablecloths - both from the same warp with different weft colors. Swedish technique - Halvdräll - makes them double sided as well as thick and protective of table surface.
HANDWOVEN ROOM - CURTAINS, COVERLETS AND RUG ALL HANDWOVEN
B.
Bedroom for our sons. Curtains made of striped cottolin.
Coverlets in 2 panels made from handspun weft from former herd of milk sheep. Susan Crane Prentice pattern from "Handweavers Pattern Book".
Rug woven on cotton warp from heavy 2-ply handspun wool - again from own sheep.
KROKBRAGD RUG - WOOL WARP, VEGETAL DYED HANDSPUN WEFT
C.
Krokbragd rug woven on commercial wool warp from various vegetal dyed handspun yarns.
Dyes include madder and walnut leaves.
HANDWOVEN TABLECLOTH - GREEN FOR THE HOLIDAYS, BUT CAN BE USED ALL YEAR
D. Tablecloth of 14/2 mercerized cotton. Warp forest green, weft medium green with lace squares spaced into a tabby weave. Light green stripe in center to help hide seam. 8 Napkins in medium green with forest accents on the loom.
PINK SWEDISH LACE DINNER NAPKINS
Detail of Napkin with Swedish lace motif.
Mercerized cotton, 12/2 sett 30 epi
Part of set of 8..to add some color to the white tablecloths.
SOFA PILLOWS AND RYA RUG MADE OF HANDSPUN WEFT YARNS - DYED WITH BRAZILWOOD, ALKANET AND INDIGO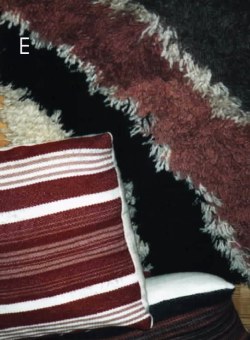 E. Sofa pillows and Rya Rug.
Pillows have a white handwoven backing with tops of handspun vegetal dyed yarns described on the pages about
dyeing
. Plain weave.
Run pile also handspun from vegetal dyed yarns. Knotted pile is worked into a plain weave background to create a fuzzy shag rug (currently on the floor in my library corner.)
TEXTURED RUGS IN WHITE - QUIET INTEREST FOR A ROOM WITH
LOTS OF PATTERN
Handspun Cotswold wool on linen warp.
Interesting "fantasy" twill with tabby pattern.
Alternating 2 strands of 2-ply + 3 strands of singles with a double strand of single for the tabby ground.
Edges done in tabby with double strand of singles.
3 runners - one for each side of the bed plus a longer one to go across the bed + the two smaller runners.
This creates a warm fuzzy place to put your feet on cold winter mornings - and allow the lovely wood floors to be seen.
Replacement rugs for the ones that were "unwoven" for example below.
Braided twill area rug, made of thick 2-ply handspun wool (spun nearly 20 years ago, woven into some plain weave rugs to go around our bed, and "unwoven" last year when the cotton rug warp became too worn) - 8-shaft, 10-treadle pattern. Linen warp, Phillipine edge AND braided fringe.