THE WOOLGATHERERS - Spinning Wheels/Acessories/Fibers
SPINNING WHEEL RESTORATION AND REPAIR
Top of Page

Does your wheel have "issues"?

Need extra bobbins?

Could your wheel use a "tuneup"?

Is there a spinning wheel in the family that needs repairs?

Have you inherited a wheel and need to have it evaluated?

Hans is available to asses your wheel - old or new. We don't charge to look at it. If your wheel needs repair or restoration, we'll give you an estimate. Since spinning wheels are not all alike, we need to see your wheel "in person" or some quality digital photos - including details of the flyer. Otherwise we cannot make an accurate assessment.

Please include a photo of the wheel showing the complete wheel. Also include closeups of any damage or parts that need repair. Please include closeup of the flyer. Send photos to:

Located in downtown Fond du Lac - just off Highway 41 - at 35 N. Main St. Take the Highway 23 exit on 41, drive East on 23 until Main St. (Walgreens on the corner). Turn right on Main. The Woolgatherers is located across from Woods Floral between the Air Force and Marines recruiting offices.

Call 920-907-0510 during business hours for an appointment.

Please Note: We no longer accept wheels for repair if the flyer is completely missing.

Not sure what that means? The spinning wheel pictured has no flyer. The flyer is the part that actually produces the yarn. A complete flyer is shown in the drawing. If the metal shaft with the orifice is missing along with the other parts, it is not possible to guess what the original pieces looked like.

If the shaft with orifice is there along with the whorl, the flyer can usually be repaired.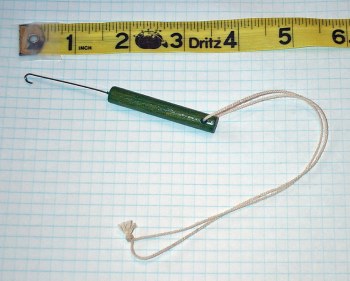 If you have an older wheel with a small orifice and larger
threading hooks are to bulky, try this one. Also works on larger
SPINNING CHAIR/COBBLER'S STOOL
Total comfort when seated - not only for spinners, but anyone who works while sitting - at the computer, sewing table, quilting frame....
Comfortable 3-legged - Seat well formed, and has a slight forward
tilt - just enough to help keep your back straight and avoid pressure on the
Lightweight, yet strong. Easy to carry around and take with you.
Available in natural pine, dark stained pine, and (special order only) in oak, walnut, cherry or maple.
Please note - each stool is handmade and we usually do not have them in stock. Orders are filled as they come in and Hans makes a sincere effort to have yours ready as soon as possible.
Our current production models.

Pine, finished - $120

Hardwood, oiled - starting - $175

(Unfinished, subtract $10)
| | | |
| --- | --- | --- |
| CARDING EQUIPMENT | Top of Page | |
| | | |
| CLEMES & CLEMES | | |
| Curved Hand Cards | | $94.00 |
| 4" Drum Carder | | $495.00 |
| 8" Elite Convertible Drum Carder - Manual, can be put in box with motor for best of both worlds. Electric attachment extra. | | $995.00 |
| Blending Board, Cherry | | $240.00 |
| | | |
| ASHFORD | | |
| Curved Hand Cards 72 teeth per inch | | $73.00 |
| Curved Hand Cards Fine 108 teeth per inch | | $76.00 |
| | | |
| | | |
| SPINNING ACCESSORIES | | |
| | | |
| ASHFORD | | |
| Skeiner/Swift - adjustable, tensioned | | $259.00 |
| | | |
| | | |
| | | |
| | | |
| | | |